Jeff S. Korek, of Counsel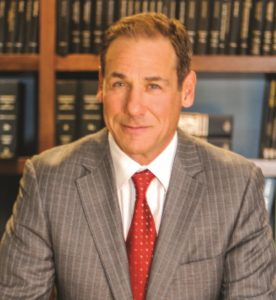 In 2018, Jeff was a panel speaker at the NY State Judicial Institute on the subject of medical malpractice. The Institute provides statewide education and training for more than 1,500 judges and justices of the New York State Unified Court System.
Jeff is a Past President and current Board Member of the New York State Trial Lawyers Association and a Past President of the New York City Chapter of the American Board of Trial Advocates. He frequently lectures at the New York State Trial Lawyers Institute, the New York State Bar Association and Fordham University School of Law on subjects of Trial Practice, Medical Malpractice and Construction Injuries. He is regularly published in the New York Law Journal.
Since 1999, Jeff has been appointed by four consecutive presiding Justices of the New York State Appellate Division, Second Department, to its Committees on Character and Fitness.
Jeff has been admitted to the Bar in all Courts of the State of New York and New Jersey as well as the Eastern and Southern Districts of the Federal Court of New York and the Federal Court of New Jersey. In 2013, he was admitted to the Bar of the Supreme Court of the United States.
In addition to his legal accolades, Jeff is also deeply dedicated to his community, as reflected in his having been a founder and active member of "The Gardiner Foundation." This non-profit foundation was started in South Bronx to assist the community youth by providing them with financial and emotional support.
Cases of note:
Bronx River Parkway Design Defect Case involving the death of 5 young men and a child on their way to a basketball tournament. In its 13th week of trial, the case resulted in an $18.5 million settlement.
Pelham Bay Landfill case representing 12 families whose children were stricken with Acute Lymphocytic Leukemia due to illegal dumping by major corporations and the US Army in an NYC landfill. The litigation resulted in a $12 million dollar settlement.